Radio Frequency Engineering, Design and Installation Services
Dropped calls are arguably the #1 problem with cellular communication. But, with every problem there is a solution.
That's where RF Coverage - the leader in radio communication solutions comes in. We offer a complete professional radio signal solution for small and large scale coverage as well as extraordinary situations. From site surveys and detailed system design to Wi-Fi and FCC approved amplifiers, RF Coverage is the solution to all your communications needs.
RF Coverage also provides:
Custom Designed Systems
Site Surveys & Innovative Solutions
Cellular & Wi-Fi Integration
CJAM Signal-Jamming Devices to Government Agencies
Cellular Tracking & Monitoring for Prisons
Type-1 Encryption for Secure Wireless Networks
Unparalleled Project Management & Customer Support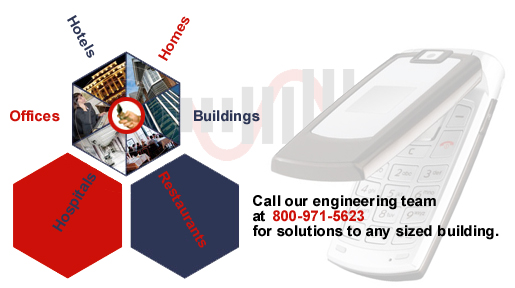 RF Coverage Corporation offers a complete professional "Turnkey" cellular signal solution for large buildings and other extraordinary situations. Our experienced design team provides innovative and cost effective solutions. This allows us to combine multiple systems in the same DAS (Distributed Antenna System). For example, we can combine PCS Cellular Blackberry and Wi-Fi using the same cabling and interior antennas.
Site Surveys
We perform Site Surveys at a reasonable cost. We measure signal levels, locate problem areas, and provide for extensive reporting so that you can make the right decision.
Detailed System Design
We use CAD systems to work with your existing plans and overlay our design. We design within the physical and financial constraints given to us. We maintain the integrity of the interior design of the buildings by using antenna fixtures that blend in with the surroundings.
Wi-Fi / 802.11 WISPS Wireless LAN Systems
As a Vivato Integrator, we can provide the complete design and installation of Wi-Fi in your building. We have the ability to incorporate Wi-Fi for large exterior and interior coverage areas (Hot Areas instead of Hot Spots) using a minimum of antennas and access points. Our solutions incorporate the newest Beam Forming technology that Vivato has to offer, and allows coverage distance of 5 miles or more with a single Vivato antenna. Whether you have need for the system in Warehouses, Conventions and Exhibitions Centers, Office Buildings, Apartment Complexes, School Campuses or Marinas, we can provide you with the best cost effective and reliable solution using our "cutting edge" technology and design.
FCC Approved Products
We only use FCC approved amplifiers that the cellular providers use. We sell our systems to the major providers and government organizations as well.
Supply of System Components
After we design the system, we produce a full and complete Bill of Material, and then once approved and an order is issued, we assemble all of the parts required direct from our extensive inventory. We supply all cabling, amplifiers, power dividers, connectors, antennas, and lightning protection all in accordance with the design. We ship the complete package ready for installation including the drawings for assembly and instructions.
Professional Installation
We use our installation teams and cabling contractors to perform all of our major installations under our supervision. However, if you would like to use your own personnel, we can provide our staff to coordinate the installation and perform the startup and system testing to insure that all is being performed according to plan.
Cellular Jamming, Tracking & Monitoring for Government Agencies
Federal Code 2512: Due to the potential misuse of certain technologies, we do not post any photographs, specifications, or pricing information regarding services or products designed for law enforcement agencies. These products are for use in surveillance, intelligence gathering, and/or undercover operations, and are sold exclusively to U.S. government agencies only. If you are a representative of a Municipal, State, or Federal Law Enforcement Agency, you may request specific information and pricing on these items. All inquiries must be made via FAX on department letterhead including a verifiable landline phone number.
Please direct your request to:
RF Coverage Government Sales
Fax: (650) 967-4444 (Please call ahead prior to sending your documents.)
GSA Advantage Federal Purchasing: (408) 296-9000 Ext. 100
Products available to law enforcement buyers:
Cellular Intercept Systems
Pager Intercept Systems
Facsimile Intercept Systems
Cellular Tracking & Triangulation Systems
Custom Surveillance Platforms
Extended Range Wireless Video Systems
VHF & UHF Wireless Transmitters
Hi-Power Briefcase & Tactical Repeaters
Encrypted Tactical Two-Way Radio Communications